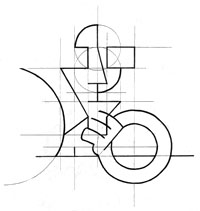 (2005)
Subtitle: '80 minuten audio voor het luisterend oor'. This CD actually contains exactly 80 minutes of music, the maximum I could squeeze onto one disc.
The main title was conceived by Terry. Both titles refer to the dubious act of offering self-made amateur music to other people, who usually have better things to do and/or listen to, and the issue of finding a good balance between arrogance and humility when doing it.
The album is a clear advancement from D3D3RD3, and I used to view it as the first album I don't have to feel ashamed about. A very long CD with varied tracks and a more electronic sound.
Kijk uit voor de lief-lullige melodietjes.
Listen to three tracks here:
Click here to download the full album.
Or download/play each individual track:
01 – Kindertje kijkgaatje
02 – Gymnopsis circonflex
03 – Eerlijke grutters
04 – Au, mijn gurk
05 – Landmijnen en schuifpuzzels deel 1
06 – Pushymi
07 – Het geheim van de grootschalige detailhandel
08 – Mag ik mijn vork terug
09 – Waar een wil is, is een poort
10 – Archipelago
11 – Kannetje kruikwater
12 – Onder de knie
13 – Op straat zie je geen Nederlanders meer
14 – Spijt kent geen tijd
15 – Kuukje knikkerpotje
16 – Lief dagboek
17 – Hepafragma
18 – Landmijnen en schuifpuzzels deel 2