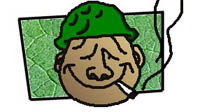 (2002)
('A Period of Great Human Failure')
In terms of sound quality and production the second Pels album is still rather bad, but it is also a lot more fun to listen to than its predecessor. The track lengths and structures are more balanced and follow each other at a high pace. Filled with colourful parody and comedy and brought with great enthusiasm, the album makes fun of humankind and the kind of humans we all love so dearly.
Een gevarieerd palet.
Click here to download the full album.
Or download/play some recommended tracks:
01 – Ochtendgymnastiek
02 – De man des oordeels
03 – De boekenplank is vol
04 – Oh yeah!
05 – Maarten zingt zijn eigen lied
06 – What would you do
07 – Trouwe viervoeter
08 – Evil pizza
09 – (Maar nu eerst) een bende ratten
10 – Umer
11 – De weg uit vrolijkland
12 – Poldclay
13 – Een groot misverstand
14 – Rastafari op safari
15 – Pika pika
16 – This is your father speaking
17 – Een periode van groot menselijk falen
18 – Sopar/woud/kauwen
19 – De grot
20 – Het is nooit anders geweest (jub jub)
21 – Slaapmutsje